We invite and encourage postdoc, graduate and undergraduate students to submit abstracts for 10-12 minutes oral presentations, with an additional 2-3 minutes for questions.
Three prizes will be given for the best talks in each section.
Registration is free and will be open to all early March and will close April 21st . To register visit the ACS DFW 2021 Meeting in Miniature Website.
To volunteer as a presentation judge or for other inquiries, please contact Dr. Mihaela Stefan:
We look forward to seeing you!
Please click on the flier below to learn about our esteemed event sponsors!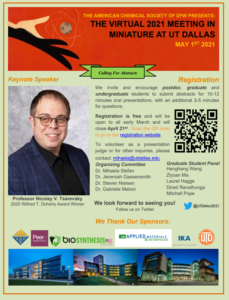 Organizing Committee
Dr. Mihaela Stefan
Dr. Jeremiah Gassensmith
Dr. Steven Nielsen
Dr. Gabriele Meloni
Graduate Student Panel
Hanghang Wang
Ziyuan Ma
Laurel Hagge
Dineli Ranathunga
Mitchell Pope
THE VIRTUAL 2021 MEETING IN MINIATURE AT UT DALLAS 
When: May 1, 2021  (Abstract deadline: April 21, 2021)
Where: This event is now virtual. Link will be sent to registered attendees.
Host: The University of Texas at Dallas
Keynote Lecture by Prof Nicolay V. Tsarevsky, Winner of 2020 Wilfred T. Doherty Award.